Gluten Free Monkey Bread
Monkey bread was something that I missed so much after going gluten free. I looked for years to try and find a good recipe but nothing seemed right. About a year ago, I decided to do something about that and made my own. I was very happy with the results. This yummy pull apart bread met all my expectations and fulfilled that craving that I had for so long.

It is so buttery and not too sweet despite all the sugar. The actual "bread" is made with a simple biscuit dough and the dough has a good bit of salt in it which cuts the sweetness and just gives it the perfect flavor. I use Bob's Red Mill Gluten Free 1 to 1 Baking Flour in this recipe but any cup for cup gluten free flour blend should work but just be warned I haven't used anything but Bob's Red Mill.
I can't make this too often because of all the butter and sugar so when I do, my family goes crazy! They fight each other to get a piece of this dessert. Every time I have brought it to share at a party or with family, there are definitely no leftovers. Those that are gluten free and those that are not enjoy this monkey bread and scarf it down. The only thing that I would say is to make sure that you grease the pan really well because you don't want anything to get stuck to the pan (which I have done). I guarantee this will be a hit! Check out my
YouTube channel
for more great recipes and product reviews.
Yield: 8 servings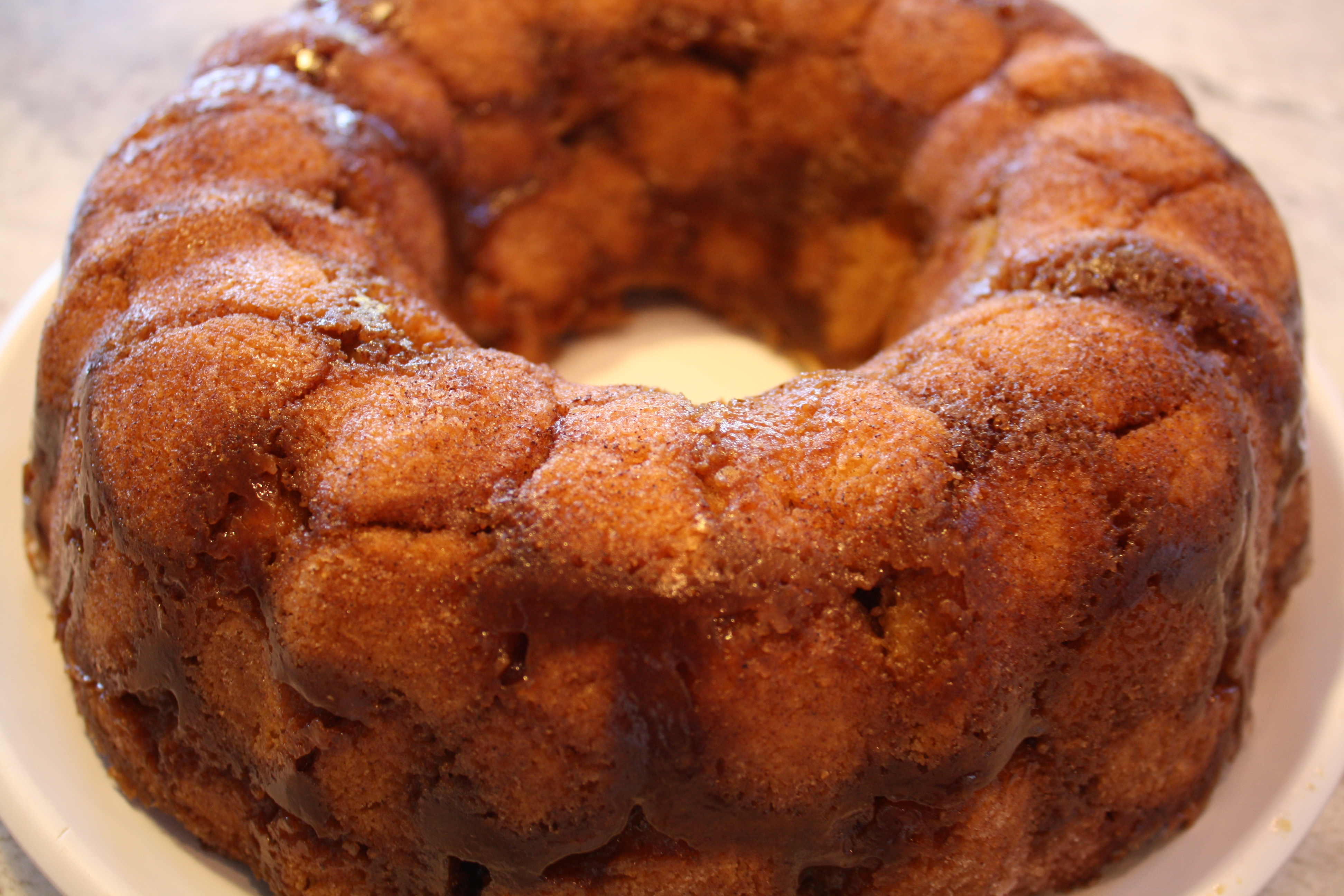 Gluten Free Monkey Bread
A delicious and rich buttery pull apart sweet bread that will make your mouth water.
prep time: 1 hour
cook time: 30 MINS
total time: 1 hours and 30 mins
ingredients:
4 cups gluten free flour blend (I use Bob's Red Mill Gluten Free 1 to 1 Baking Flour)
3 teaspoons kosher salt
3 teaspoons baking powder
1 teaspoon baking soda
1 cup unsalted butter, cold and cubed
1 1/2 cups buttermilk
1 cup granulated sugar
2 teaspoons cinnamon
2 sticks unsalted butter
1/2 cup brown sugar
instructions
Preheat oven to 350 degrees F. Grease bundt pan and set aside.
Whisk to combine gluten free flour, kosher salt, baking powder, and baking soda. Slowly pour buttermilk into mixture until the dough forms a lumpy ball. The dough should be loose. Do not over mix.
Wrap dough in plastic wrap and let rest in refrigerator for 30 minutes.
After dough has been chilled, roll into balls.
Combine granulated sugar and cinnamon into 1 gallon zip bag. Shake to mix evenly.
Cut dough balls into quarters and put into gallon zip bag. Shake to coat in cinnamon sugar. Make sure dough is coated so that they don't stick together. Place dough in greased bundt pan.
Melt the two sticks of butter together with the brown sugar. Cook the mixture until the butter and sugar become one. Once it has become one color, pour over the dough.
Bake for about 30-40 minutes until the crust is a deep dark brown on top. When it is finished cooking, remove from oven and let cool for about 15-30 minutes before turning over onto to a plate.