Gluten Free Edible Cookie Dough
So I have yet to meet a person that does not love cookie dough, sometimes even more than the actual cookies. It is always risky to eat regular cookie dough because of the uncooked flour and eggs. It can be a gamble to indulge in your favorite cookie dough because you can always get sick. How nice would it be to eat delicious cookie dough without the worry? I have seen so many places pop up that serve edible cookie dough, so I thought I would give it a shot to make my own version. I was pleasantly surprised by this recipe as to how yummy it is. You don't miss the eggs and it just takes exactly how you want it to. It's creamy and delicious and tastes exactly like cookie dough.

Because I love chocolate, I though that coating the cookie dough balls in chocolate candy coating would just take it to a whole new level and it did. It is so good with the chocolate but it is totally not necessary. If you just want to eat your cookie dough the way it is, just go ahead. Just make sure that you are using gluten free candy coating. There is a link down below where you can buy gluten free candy coating. Also, you can add all kinds of mix ins such as crushed up gluten free chocolate sandwich cookies, melted chocolate, or M&Ms. Make it all your own and this is the perfect base to make all different kinds of amazing cookie dough.
For this dough, I used my go to gluten free flour blend, Bob's Red Mill Gluten Free 1 to 1 Baking Flour. It just always works the way I want it to and is so easy to find so it's what I use in most of my cooking but your favorite gluten free flour blend would work in this recipe too. Also, make sure to watch the video down below to see exactly how I made these and check out my
YouTube Channel
for more great recipes and product reviews.
Yield: 2 dozen cookie dough balls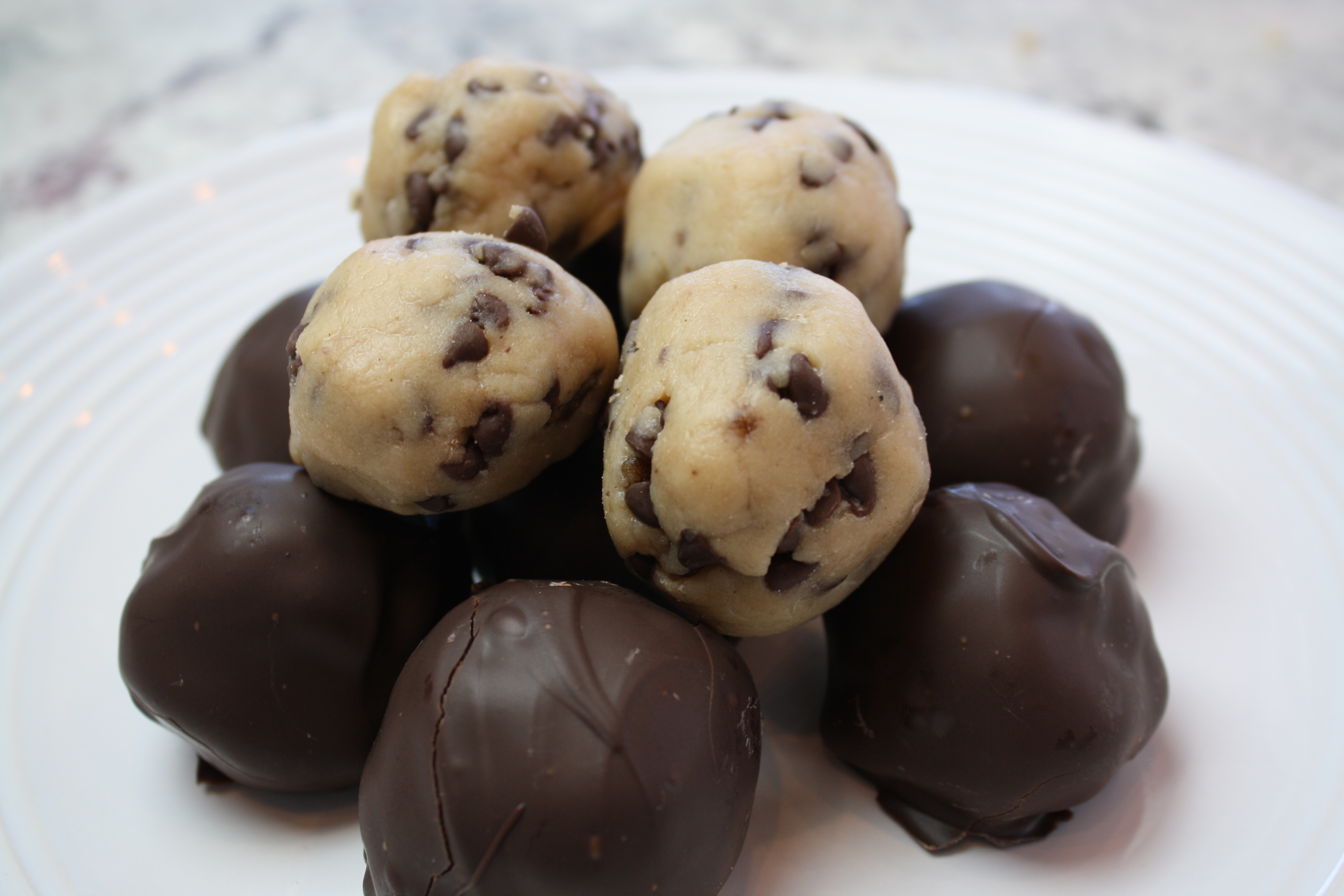 Gluten Free Edible Cookie Dough
Indulge in delicious cookie dough that is safe to eat.
prep time: 1 hour and 10 MINS
cook time: 5 MINS
total time: 1 hours and 15 mins
ingredients:
2 cups gluten free flour blend (I used Bob's Red Mill Gluten Free 1 to 1 Baking Flour)
1 cup brown sugar
1 cup unsalted butter, softened
4 tablespoons milk
2 teaspoons pure vanilla extract
1 teaspoon salt
1 cup mini chocolate chips
instructions
Preheat oven to 350 degrees F.
Evenly spread out gluten free flour on a parchment paper lined baking sheet. Bake for 5 minutes in preheated oven.
In a large bowl, mix gluten free flour, sugar, butter, vanilla, milk. and salt until combined evenly. Mix in chocolate chips.
Roll cookie dough in small balls and freeze for an hour until firm.
Melt chocolate candy coating in microwave slowly so that it is not overheated. Dip cookie dough balls into melted chocolate until completely coated.
Refrigerate cookie dough balls until chocolate is set. Store in airtight container in refrigerator or freezer.