Gluten Free Strawberry Shortcakes
I know what you are thinking, another strawberry and cream dessert?! I just can't help myself! I will try and post something other than just another version of the same dessert but it is summer right now and it's really all I want to make. It does not only taste amazing but it just looks so pretty! It is just the perfect dessert right now when it is hot because it is a lot lighter than other desserts. It just goes perfectly with those summer BBQs that you are probably having this time of year.

Homemade shortcakes are meant to be lightly sweetened and just a bit crumbly. They shouldn't be too dry but just add some texture to each bite. The crumbly shortcake paired with the softened and sweetened strawberries and whipped cream just make the perfect dessert. This gluten free version is no different. They are so easy to whip up and really the only tools that you need are your hands and a fork. I use a stand mixer when I make these but it's really not necessary. I think it's easier and I always take the easy route! These are also super easy to work with. The dough is forgiving and it's hard to mess these babies up.
I don't really have any tips for making this dessert because it is just that easy. Check out my video down below to see exactly how I made it but just follow the recipe and they should turn out perfect every time. If you are like me and you are obsessed with strawberries and cream then make sure to check out these other amazing gluten free desserts!
Strawberries and Cream Cake
,
Strawberries and Cream Cake Mix Cookies
,
Cheesecake
,
Strawberry Cupcakes
. As always, head over to my
YouTube Channel
for more great recipes and product reviews!
Yield: 6 shortcakes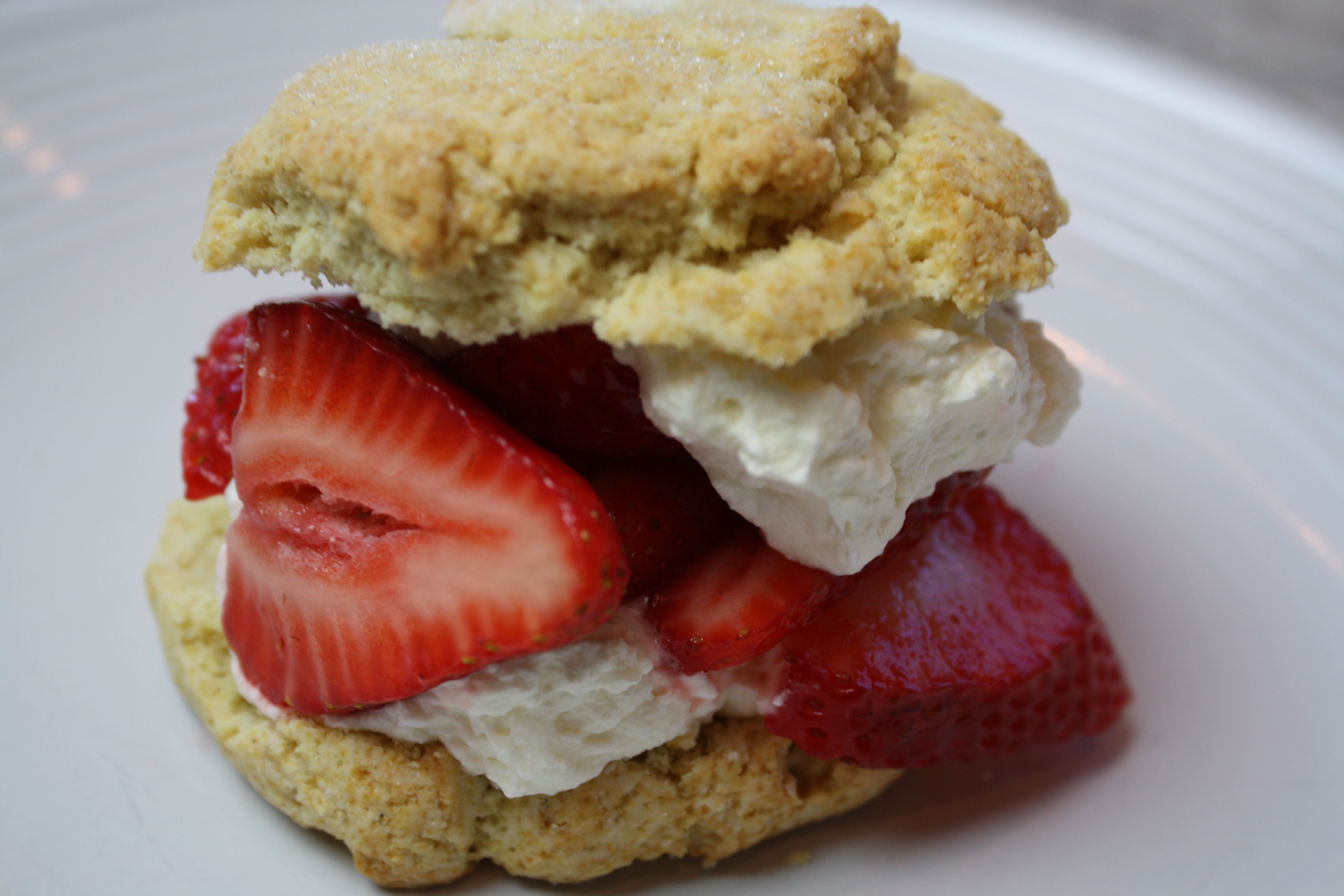 Gluten Free Strawberry Shortcakes
An amazing gluten free spin on this classic dessert that is perfect topped with fresh strawberries and whipped cream!
prep time: 15 mins
cook time: 15 mins
total time: 30 mins
ingredients:
Shortcakes
1 1/2 cups 1 to 1 gluten free flour blend (I use Bob's Red Mill Gluten Free 1 to 1 flour blend)
2 1/2 teaspoons baking powder
1/2 teaspoon baking soda
1/4 cup sugar
1/2 stick (4 oz) cold butter
1/2 cup buttermilk
Topping
3 cups fresh strawberries tops removed and sliced
2 tablespoons sugar (more or less depending on how sweet you like your strawberries)
whipped cream
instructions
Combine sliced strawberries and sugar in a bowl. Stir and cover. Place in fridge for an hour or more to release juices.
Preheat oven to 425F degrees and line a baking pan with parchment paper.
Combine gluten free flour, baking powder, baking soda, and sugar in the bowl on a stand mixer.
Add cold butter a little at a time while the mixer is on low or use a fork or pastry cutter until you have coarse crumbs and it is the texture of cornmeal.
Stir in buttermilk until you have a thick, sticky batter.
Drop dough onto the baking sheet making 6 shortcakes.
Sprinkle dough with coarse or regular sugar and bake for 15 minutes or until lightly browned. Let cool
Slice open biscuits and serve with layers of strawberries, their juice and whipped cream.