Gluten Free Funfetti Cake
My family all lives really close to each other so we always get together for anything big that is happening which includes birthdays. We love to celebrate birthdays with everyone and I am the one that usually brings the birthday cake because I want to eat some with everyone as well. None of my family minds that it is gluten free and loves all the different cakes that I make. A few weeks ago, my nephew turned 7 so we all got together and I offered to make the cake. I wanted to do something really fun and something that he would like. He loves sprinkles and he loves color so I thought that a funfetti cake would be perfect for him. Not only did I want to cover the cake in sprinkles but I also wanted to have sprinkles and color throughout the cake as well so that it was a party on the outside and the inside.
I knew that I wanted to do a white cake so that the sprinkles would really shine through and you would be able to see all those fun colors when you cut into it. This white cake recipe is absolutely amazing. It is soft, fluffy and light. My niece actually said it was the best cake that I ever made! I have to agree that it was super good. Everyone was eating is as fast as they could so they could make sure to get a second piece before it was all gone. My nephew also loved it! He was so excited to blow out the candles and he couldn't wait to eat his fun sprinkle cake.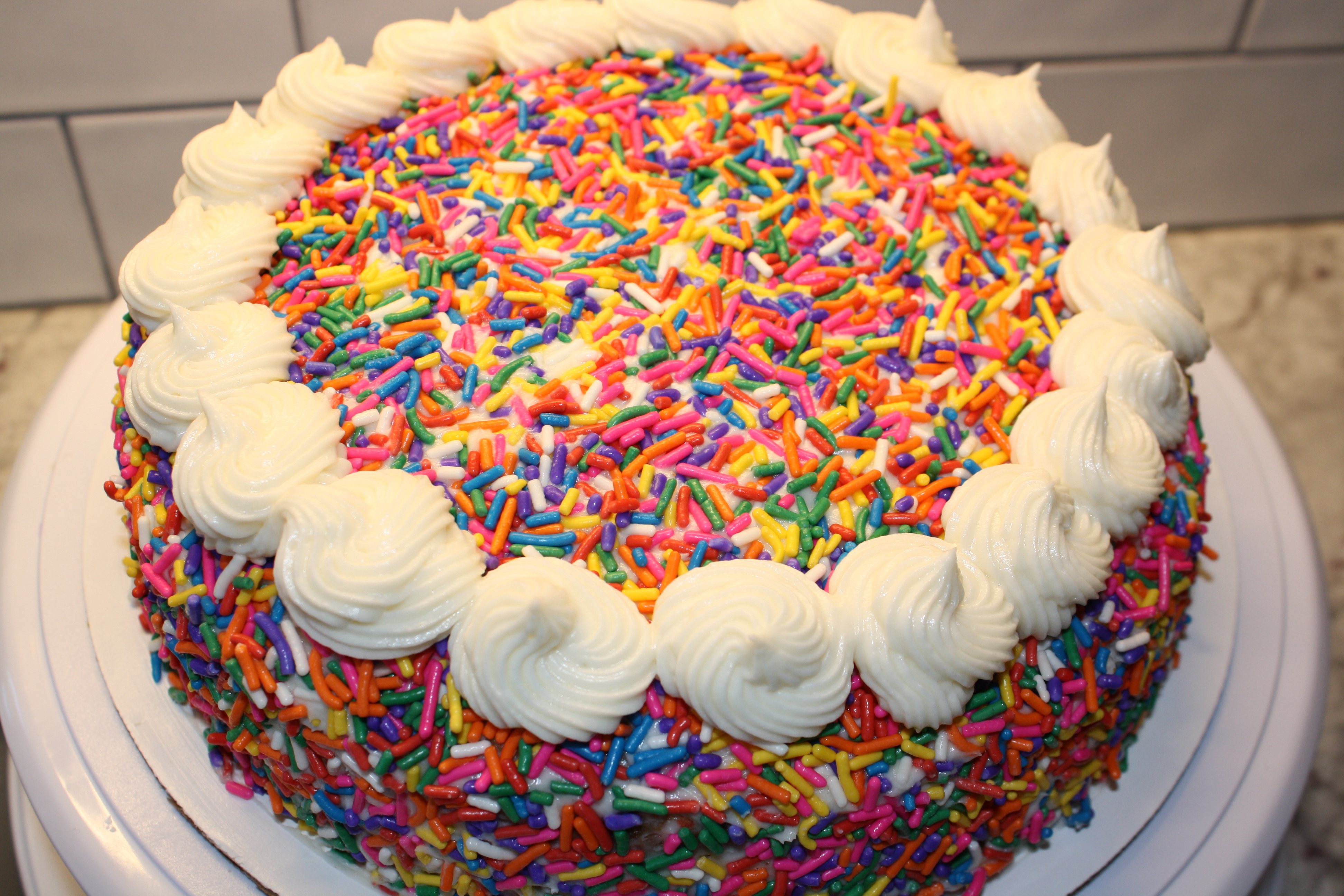 Gluten Free Funfetti Cake
A super fun and colorful cake that will make any event into a party. This cake is perfect for birthday parties and is so easy to make. The cake is moist and the sprinkles make it so festive!
prep time: 30 M
cook time: 30 M
total time: 60 M
ingredients:
Cake
1 package (15 ounce) yellow gluten free cake mix
1/4 cup vanilla instant pudding mix
2 1/2 Tablespoons sugar
1/2 cup sour cream
1/3 cup vegetable oil
1/4 cup water
2 large egg whites
1 large egg
1 Tablespoon vanilla
1/2 teaspoon almond extract
1/3 cup gluten free sprinkles
Cream Cheese Frosting
1 package (8 ounces) cream cheese at room temperature
1/2 cup (1 stick) unsalted butter, at room temperature
4 1/2 cups powdered sugar, sifted
1 1/2 teaspoons pure vanilla extract
1 cup gluten free sprinkles for decorating (optional)
instructions:
How to cook Gluten Free Funfetti Cake
Place the rack in the center of the oven and preheat the oven to 350 degrees F. Take one 9-inch round cake pan that is at least 2 inches deep and lightly mist it with vegetable oil spray. Dust the cake pans with some gluten free flour, shake out the excess and set pan aside.
Place cake mix, pudding mix, and sugar in the large mixing bowl and stir to combine. Add the sour cream, oil, water, egg whites, egg, and vanilla and almond extracts, and beat with an electric mixer on low speed until the ingredients are just incorporated. Scrape down the sides of the bowl and then increase the mixer speed to medium and beat the batter smooth, about 1 1/2- 2 minutes longer. The batter should be well blended and thick. Add in the gluten free sprinkles and stir to combine. Pour batter into prepared pan and smooth top with a rubber spatula. Place in the center of the oven.
Bake the cake until it is lightly browned and top springs back when lightly pressed with a finger, about 25-30 minutes. Transfer the cake to a wire rack and let cake cook for 5 minutes. Run sharp knife around the edge of the pan. Invert each layer onto wire rack and then invert again onto another rack so that the layers are right side up. Let layers cool completely, about 30 minutes longer.
Make the frosting: Place cream cheese and butter in a medium-size mixing bowl and beat with an electric mixer on low speed until combined, 30 seconds. Stop the machine and add the powdered sugar and vanilla a bit at a time, beating with the mixer on low speed until the sugar is well incorporated. Increase the mixer speed to medium-high and beat the frosting until fluffy, 1 to 1/2 minutes longer.
Assemble the cake: Using a serrated knife, slice the cake in half crosswise. Transfer the bottom the cake to a serving plate. Spread the cut side with 1 cup frosting then place the top half over it, cut side down. Frost the top and side of the cake leaving about 3/4 cup frosting for decorating. Chill for 15-20 minutes until frosting sets a bit and then continue to smooth the sides and top of cake. Take gluten free sprinkles and sprinkle all over the top and the sides until completely covered. Place remaining frosting in a piping bag with desired tip and then pipe frosting swirls around the outside of the cake. Serve and Enjoy!