Gluten Free Coffee Cake Muffins
I love a good muffin. They are basically cupcakes without the frosting that you can eat for breakfast. It really doesn't get much better than that! These muffins are truly amazing. You use a cake mix to make them and then you add lots of cinnamon sugar to them so you know they are going to taste so good. You really can't go wrong with cinnamon sugar so any type of coffee cake, I am going to be all over it.

I think that adding the cinnamon streusel topping onto these muffins just completes them. It gives them an amazing texture and a bit of a crunch. You don't have to add the topping and can make them without or just add some cinnamon sugar to the tops but I think that the topping just adds another dimension to really take these muffins over the edge. These muffins are also really easy to make. I am all about making things as easy as possible. With 3 boys, I don't have a whole lot of time so I love easy recipes that I can throw together that will just put a smile on everyone's face.
My kids loves these muffins. They are so good to eat when they are still warm. All the brown sugar and cinnamon just melts together and you can't help but smile after each bite. They also save really nice and you can even freeze them if you want to keep them for long periods to time. I love to freeze them and pop them out whenever I need a little treat. Just let them defrost on your counter and they will be just as good as the day that you made them. Check out the video down below to see exactly how I made them and make sure to go to my
YouTube channel
for more great recipes and product reviews.
Yield: 18 muffins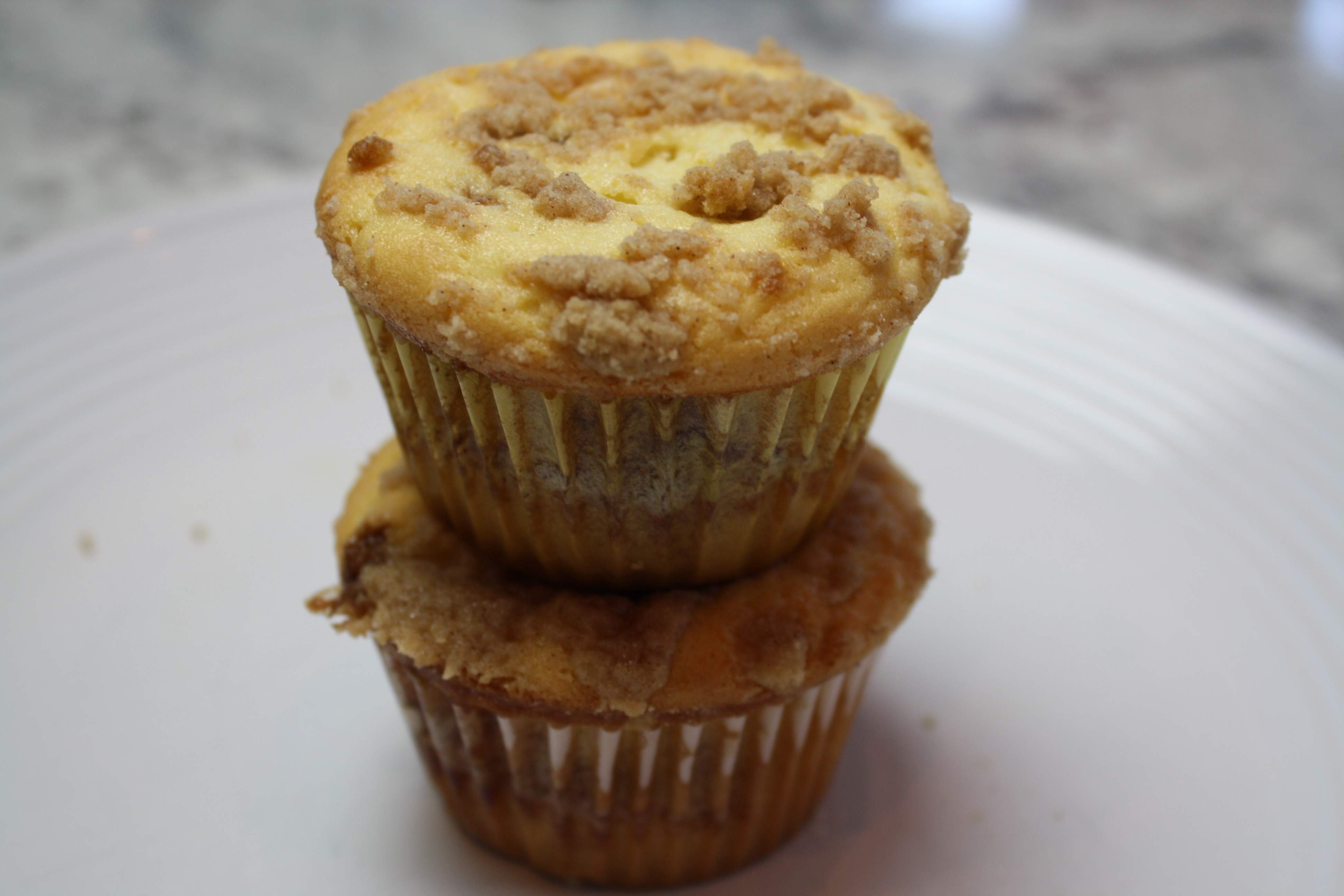 Gluten Free Coffee Cake Muffins
Amazing coffee cake muffins with the perfect amount of cinnamon sugar running through them. Topped with cinnamon streusel, it just makes the perfect muffin.
prep time: 25 mins
cook time: 20 mins
total time: 45 mins
ingredients:
Cinnamon Sugar
1/3 cup lightly packed light brown sugar
1 teaspoon ground cinnamon
Muffins
18 cupcake liners
1 package (15 ounces) yellow gluten free cake mix
1/4 cup vanilla instant pudding mix
1 cup milk
1/2 cup vegetable oil
3 large eggs
2 teaspoons pure vanilla extract
Cinnamon Streusel Topping
2 tablespoons butter (firm)
1/4 cup gluten free flour blend
2 tablespoons packed brown sugar
1/4 teaspoon ground cinnamon
instructions
Make the Cinnamon Sugar
Place brown sugar and cinnamon in a small mixing bowl and stir to mix. Set the mixture aside
Make the muffins
Line muffin tin with cupcake liners.
Place cake mix, pudding mix, milk, oil, eggs, and vanilla in a large mixing bowl and beat with an electric mixer on low speed until the ingredients are just incorporated, 30 seconds. Stop the machine and scrape down the sides of the bowl with a rubber spatula. Increase the mixer speed to medium and beat the batter until smooth, 1 1/2 to 2 minutes longer, scraping down the side of the bowl again if needed.
Place a small scoop of batter into the paper-lined muffin tin, top with a teaspoon of cinnamon sugar, followed by another scoop of batter. Repeat this to make about 18 muffins.
Make the cinnamon streusel topping
Cut butter into gluten free flour, brown sugar and cinnamon in a medium bowl, using pastry blender or fork until crumbly.
Sprinkle about a teaspoon of the topping onto each muffin and then bake in a 350 degree preheated oven for about 20 minutes. Let cool and enjoy.